The AAUW Public Policy Program underscores AAUW's mission of promoting equity for women and girls
2018 Idaho Legislative Session
The 2018 Idaho Legislative Session convened on January 8, 2018. The AAUW Idaho Statehouse Lobby Corps met on January 5 to determine specific advocacy priorities for the session.  As bills related to these issues (and others) emerge, a bill tracker with links to printed bills will be posted on this page.
Issues identified include:
Education Reform and Full Funding for Public Education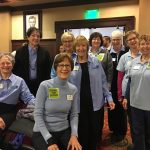 1) Common Core, HB 412 and Science Standards
Rep. Ron Nate
Position: Support science standards
Outcome:  Passed.
The standards were approved by the Senate Ed Committee on 02/22/18.
2) Guided Education Management Act, HB 590
Rep. John Vander Woude
Position: Oppose
Outcome: Failed. The full House approved the bill on 03/05/18. HB 590 establishes a new scholarship program for private schools only; this is a step toward an Idaho voucher program. Here's Betsy Russell's Eye On Boise report on today's vote.
In a surprise announcement, the Senate Education Committee cancelled a scheduled hearing  on 03/13/18. This essentially kills the bill. Read Clark Corbin's story on this development.
3) Idaho Opportunities Scholarship aka Adult Completer Scholarship, SB 1279
Position: Support
Outcome: Passed.
The full Senate passed the bill on 02/27/18; the full House approved the bill on 03/19/18, so legislation goes to the Governor.  The bill will provide financial incentives for adults with some college to complete postsecondary degrees.
Early Childhood Education
(Pilot Program) — View a PowerPoint presentation here:  Early Learning Survey Results 2018
The Andrus Center for Public Policy and the Idaho Association for the Education of Young Children hosted an informational meeting about early childhood education in Idaho on Feb. 12. No action in 2018 session.
Healthcare Access (Comprehensive) and Medicaid Expansion
1) The Idaho Health Care Plan,  HB 464
Position: Support, despite Medicaid work requirement added 1/30/18. After analysis, our allies at Close the Gap determined that passing this complex bill is the best step forward.
Outcome:  Failed.
The Idaho Health Care Plan was pulled from the House floor on 02/27/18 and returned to committee – on 03/19/18, the House H&W Committee voted to return the bill to the House floor for a vote.  On 03/21/18 the full House voted to return the bill to committee, effectively killing the bill (again) for the session.
2)  Abortion "abortion pill reversal," SB 1243
Sen. Lori Den Hartog, Sen. Stephen Vick
Position: Oppose
Outcome: Passed.
The bill passed both bodies on party line votes (read Betsy Russell's short Eye On Boise post about the House State Affairs Committee hearing).  "Chemical abortion reversal" is not based on science or medicine and Idaho women deserve accurate information from their physicians. Read more about AAUW's position on reproductive freedom and economic security here.
3)  Insurance Coverage for Contraceptives SB 1281
Sen. Cherie Buckner-Webb, Sen. Janie Ward-Engelking
Position: Support
Outcome: Failed.
The legislation's purpose was to ensure consistent access to birth control. The bill was killed for the session on 02/27/18 after being sent back to its sponsor on a 5-4 vote by the Senate Commerce and Human Resources Committee.  Read Betsy Russell's Eye On Boise blog post about the hearing.
4)  Plan First Idaho HB 563
Rep. Mat Erpelding
Position: Support 
Outcome:  Probably dead for the session.
The House Health and Welfare Committee sent the proposal to the full House on 02/28/18 with a "do-pass" recommendation. On 03/07/18 the House agreed to defer a vote on this bill until 03/21/18, which is the hoped-for adjournment date. Details can be found in Betsy Russell's Eye On Boise story. The bill would provide essential preventive health services to women currently in the health care coverage gap, including annual exams, cancer and diabetes screening, as well as family planning services (not to include abortion), saving tax dollars.
Sexual Assault Victim's Rights
Crime Victim's Compensation, HB 429
Rep. Melissa Wintrow
Position: Strongly Support
Outcome:  Passed.
Bill passed House floor vote nearly unanimously. Bill moved on to Senate Judiciary & Rules Committee where it was sent to the 14th Order for amendment.  On 03/08/2018, the full Senate passed the amended bill 34-1. The bill returned to the full House, and was passed on 03/19/18!
Stand Your Ground
Use of Deadly Force, Self Defense, SB 1313
Sen. Todd M. Lakey, Rep. Judy Boyle
Position: Oppose
Outcome: Passed and sent to governor 03/15/18.
Domestic Violence Prevention
Firearms, Domestic Violence, HB 585
Rep. Melissa Wintrow
Position: Support
Outcome:  Failed.
The bill passed the House Judiciary & Rules Committee on 03/01/18; sent to House floor.  The bill, "to forbid those convicted of misdemeanor domestic violence from having guns for two years," was defeated 03/06/18 in the House on a 31-39 vote. You can read Betsy Russell's Eye On Boise blog for more detail. The outcome of this vote was a huge disappointment.
Article V Constitutional Convention
Modifying the U.S. Constitution  HCR032
Rep. Thomas Loertscher
Position: Oppose
Outcome: Failed in committee.
Senator Lori Den Hartog (District 22) and Representative Paulette Jordan (District 5) opened the Lobby Corps meeting with a discussion about what led to their decision to run for office and what the process entailed. They offered a glimpse into their own backstories, and also noted issues of importance to them that may emerge during the session.
Senator Janie Ward-Engelking shared some of the concepts and proposals included in the Higher Education Task Force Final Report, specifically the Adult Completer Scholarship.  Representative Ilana Rubel then provided a comprehensive presentation on the Co-op Model for Higher Education.
Boise State University political science student Amanda Haines offered an enlightening introduction to essential language for navigating social movements and legislation in 2018.
Key Resources for Members
Visit the AAUW national website's Issues Advocacy pages to learn more about AAUW's public policy priorities.  From this page, you may access the AAUW Voting Record, Fact Sheets and Position Papers, become a Two-Minute Activist, subscribe to the AAUW Action Network, and subscribe to our monthly public policy newsletter.
Visit the Idaho State Legislature page to locate and contact your elected officials.  If you live outside of Boise and travel is difficult, take advantage of the 2018 Remote Testimony Pilot Project.  Please write your legislators to let them know your position on our issues: your comments do count!  Be respectful, concise, and be sure to include your full contact information (name and address are required; phone number is optional) when corresponding via email with legislators. Find sample letters from the 2016 session here. Scroll down this page to the "Contact Your Elected Officials" section for more tips.
To find Idaho legislative reading calendars and agendas in order to track bills during the winter session, check the Senate and House calendars in the side bar of the main page  (you may also sign up here for the bill tracker to receive updates via email on bills of interest from the legislative services office) .  Look up bills by subject to review fiscal impact, read full bill text (after printing) and find voting records.
Tune in to Idaho Public Television's (IPTV) Idaho in Session: Legislature Live to live stream hearings (and more) during the session (usually January–March).  Follow Betsy Russell's blog, Eye on Boise, and Idaho Reports for up-to-date reporting.
Submit a Letter to the Editor 
Use the letter writing tips found in the Key Resources section above. Generally speaking, to submit a letter, go to the publication's Opinion page or click on Services for a submission form.
Contact Your Elected Officials 
Visit the Idaho Legislature Home Page to reach legislators and elected congressional officials, get information on committee meetings, current issues, and track bills online by subject. To send a message to an entire committee during the Idaho legislative session, select How to Contact Legislators and click on Contact by Committee. Choose the appropriate committee, then email each legislator via the form provided (it's easiest to copy and paste your message into the form). You may also contact committee members individually by typing the legislator's first initial and last name, followed by @house.idaho.gov or @senate.idaho.gov.
The President of the United States
The White House
Washington, DC  20500  www.whitehouse.gov
White House comments: 202/456-1111
U.S. Capitol Switchboard: 202/224-3121
For more than a century, AAUW has influenced public policy debate on critical issues such as education, Social Security, sex discrimination, civil rights, reproductive choice, affirmative action, Title IX, welfare reform, vocational education, pay equity, family and medical leave, and health care reform.
Did you know that Idaho's Senator Jim Risch voted against reauthorization of VAWA (the Violence Against Women Act), the Paycheck Fairness Act and a host of other AAUW priorities? Please review AAUW Action Fund's Congressional Voting Record to see how our elected delegation voted (it's not good).  Spread the word. Support AAUW's work by donating at the AAUW Action Fund site. The AAUW Action Fund advances equity for women and girls through member activism and voter mobilization.
Vote!
You know that the most powerful tool we have is our vote. But do your friends and family know? What about your co-workers and neighbors? Anyone can check their voter registration status – their power – by visiting AAUW coalition partner canivote.org. Invite everyone on your contact list to check their status today!  You may also find official information specifically for Idaho voters at Idaho Votes.  Be sure to cast your ballot on all elections throughout the year: vote absentee.  Download absentee ballots requests for primary and general elections.  To find the address of your county clerk so you can mail in your form, click here.
Additional Resources 
2017-2019 AAUW Idaho Priority Issues
Andrus Center for Public Policy
Campus sexual violence tool for students, schools and advocates.
Close the Gap Idaho: Sign up to follow efforts to close the health insurance coverage gap in Idaho.
Go Lead Idaho:  A nonprofit motivating women to lead and demonstrating why it matters.
Human Trafficking:  AAUW Idaho has worked with the director of the Idaho Trafficking of Human Beings Awareness Campaign. If you would like more information on this effort, including training opportunities in Idaho, please email Merikay Jost.  For AAUW's position on this issue, check out AAUW's Quick Facts on Human Trafficking.
Idaho Association for the Education of Young Children (Idaho aeyc): Advancing Idaho's early learning profession.
Idaho Center for Fiscal Policy:  Learn about Education Funding Challenges and Realities in Idaho.
Idaho Coalition Against Sexual and Domestic Violence
Planned Parenthood Votes Northwest
Reclaim Idaho: Petition drive to put Medicaid Expansion on the ballot in 2018
Past Idaho Legislative Sessions
Advocacy 2017 Legislative Recap
Advocacy 2016 Legislative Recap
Advocacy: 2015 Legislative Recap
Disclaimer: This website uses links to other websites and is not responsible for their content.