Key Resources for Members
Visit the AAUW national website's Issues Advocacy pages to learn more about AAUW's public policy priorities.  From this page, you may access the AAUW Voting Record, Fact Sheets and Position Papers, become a Two-Minute Activist, subscribe to the AAUW Action Network, and subscribe to our monthly public policy newsletter.
Visit the Idaho State Legislature page to locate and contact your elected officials.  If you live outside of Boise and travel is difficult, take advantage of the 2018 Remote Testimony Pilot Project.  Please write your legislators to let them know your position on our issues: your comments do count!  Be respectful, concise, and be sure to include your full contact information (name and address are required; phone number is optional) when corresponding via email with legislators. Find sample letters from the 2016 session here. Scroll down this page to the "Contact Your Elected Officials" section for more tips.
To find Idaho legislative reading calendars and agendas in order to track bills during the winter session, check the Senate and House calendars in the side bar of the main page  (you may also sign up here for the bill tracker to receive updates via email on bills of interest from the legislative services office) .  Look up bills by subject to review fiscal impact, read full bill text (after printing) and find voting records.
Tune in to Idaho Public Television's (IPTV) Idaho in Session: Legislature Live to live stream hearings (and more) during the session (usually January–March).  Follow Betsy Russell's blog, Eye on Boise, and Idaho Reports for up-to-date reporting.
Boise branch members work to keep the Meridian Library open and free from censorship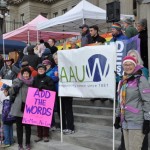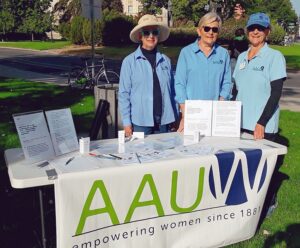 Add the Words Rally Jan. 17, 2015 and Boise branch members Mary Mosley, AAUW Idaho president, Anne Lewis, Boise branch co-president and Mary Ruckh, Boise branch public policy chair, table at rally for abortion rights in Boise after Roe v Wade was overturned
Submit a Letter to the Editor 
Use the letter writing tips found in the Key Resources section above. Generally speaking, to submit a letter, go to the publication's Opinion page or click on Services for a submission form.
Contact Your Elected Officials 
Visit the Idaho Legislature Home Page to reach legislators and elected congressional officials, get information on committee meetings, current issues, and track bills online by subject. To send a message to an entire committee during the Idaho legislative session, select How to Contact Legislators and click on Contact by Committee. Choose the appropriate committee, then email each legislator via the form provided (it's easiest to copy and paste your message into the form). You may also contact committee members individually by typing the legislator's first initial and last name, followed by @house.idaho.gov or @senate.idaho.gov.
The President of the United States
The White House
Washington, DC  20500  www.whitehouse.gov
White House comments: 202/456-1111
U.S. Capitol Switchboard: 202/224-3121
For more than a century, AAUW has influenced public policy debate on critical issues such as education, Social Security, sex discrimination, civil rights, reproductive choice, affirmative action, Title IX, welfare reform, vocational education, pay equity, family and medical leave, and health care reform.
Did you know that Idaho's Senator Jim Risch voted against reauthorization of VAWA (the Violence Against Women Act), the Paycheck Fairness Act and a host of other AAUW priorities? Please review AAUW Action Fund's Congressional Voting Record to see how our elected delegation voted (it's not good).  Spread the word. Support AAUW's work by donating at the AAUW Action Fund site. The AAUW Action Fund advances equity for women and girls through member activism and voter mobilization.
Vote!
You know that the most powerful tool we have is our vote. But do your friends and family know? What about your co-workers and neighbors? Anyone can check their voter registration status – their power – by visiting AAUW coalition partner canivote.org. Invite everyone on your contact list to check their status today!  You may also find official information specifically for Idaho voters at Idaho Votes.  Be sure to cast your ballot on all elections throughout the year: vote absentee.  Download absentee ballots requests for primary and general elections.  To find the address of your county clerk so you can mail in your form, click here.
Additional Resources 
AAUW Idaho Priority Issues 2017-19
Andrus Center for Public Policy
Close the Gap Idaho: Sign up to follow efforts to close the health insurance coverage gap in Idaho.  In addition, support Idahoans for Healthcare in its effort to expand Medicaid at the ballot box in the fall of 2018.
Go Lead Idaho:  A nonprofit motivating women to lead and demonstrating why it matters.
Human Trafficking:  AAUW Idaho has worked with the director of the Idaho Trafficking of Human Beings Awareness Campaign. If you would like more information on this effort, including training opportunities in Idaho, please email Merikay Jost.  For AAUW's position on this issue, check out AAUW's Quick Facts on Human Trafficking.
Idaho Association for the Education of Young Children (Idaho aeyc): Advancing Idaho's early learning profession.
Idaho Center for Fiscal Policy:  Learn about Education Funding Challenges and Realities in Idaho.
Idaho Coalition Against Sexual and Domestic Violence
Planned Parenthood Votes Northwest
Reclaim Idaho: Petition drive to put Medicaid Expansion on the ballot in 2018
Women's March on Idaho, January 21, 2017
Past Idaho Legislative Sessions
Advocacy 2018 Legislative Recap
Advocacy 2017 Legislative Recap
Advocacy 2016 Legislative Recap
Advocacy: 2015 Legislative Recap
Disclaimer: This website uses links to other websites and is not responsible for their content.