2018 Headlines & Highlights
New voter registration: AAUW members went to Boise High School to register new voters. According to Chris Stokes, "The photos represent an event at one school on one day. Over the past 8 weeks, teams of volunteers have conducted voter registration activities at 10 high schools and three college campuses. A fabulous positive experience!"
---
Incoming AAUW officers, led by Co-Presidents Sylvia Chariton and Bonnie Pfaff, took office July 1, 2018.  Visit our Contact Page to get in touch with board members.
---
View our Photo Gallery for images from the 2018 AAUW Idaho State Convention and Business Meeting, featuring special visits from the dynamic AAUW CEO Kimberly Churches and AAUW Board Chair Julia Brown. The convention was hosted by AAUW Boise Area Branch and led by our fabulous AAUW Idaho Co-Presidents Julie Custer and Kathy Scott.
---
From the March 9, 2018 edition of AAUW's Washington Update, AAUW Idaho received a HUGE shoutout in the State Spotlight!
AAUW of Idaho members have been working hard at both the legislative and executive levels. Members of the AAUW of Idaho Statehouse Lobby Corps have testified in committee and visited legislators' offices to advocate on a wide range of issues, including reproductive rights, public education, and legislation to close the health insurance coverage gap in their state. At the executive level, co-presidents Kathy Scott and Julie Custer, published letters to the editor in both the Idaho State Journal and the Idaho Press-Tribune outlining the problems with a recent executive order that would permit discrimination in state health insurance plans. Advocating for AAUW priorities at multiple levels of government is a great approach, and we applaud AAUW of Idaho's efforts!
---
Photos from Membership Meeting in Boise, February 17, 2018
---
Learn about AAUW's work on Title IX here.
The state and Boise Area Branch actively support STEM education. Visit the Boise Area Branch's Special Projects page to see what STEM Chair Donna Looze has accomplished.
"Women, Their Rights, and Nothing Less"
How can you use AAUW's free online learning module about the suffrage movement? Ask for access to our webinar to learn how to implement this material into local high school and college and university partner classrooms.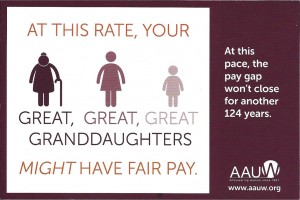 AAUW is working to end sexual violence on campus.  Check out this resource for students, schools and advocates.
 A special thank you goes to the incomparable Lisa Maatz, former AAUW VP of Government Relations, for her dynamic presentation in Boise on February 11, 2016:  Advocacy Can Change the Course of Public Policy.  As AAUW's top policy expert and a familiar face on Capitol Hill, Maatz shared stories and offered insight into strategies to advocate more effectively on issues that impact women and families. We also thank esteemed Idaho legislative reporter and Spokesman-Review journalist Betsy Z. Russell for moderating the Q&A session.

To listen to a podcast of Maatz's remarks during her appearance at the Andrus Center for Public Policy's "Politics for Lunch" series on February 11, 2016, click here.
Read more about 2016 AAUW Idaho Highlights, including Maatz's Idaho visits.