AAUW Mission
To advance gender equity for women and girls through research, education, and advocacy.
Vision
Equity for all.
Values
Nonpartisan.
Fact-based.
Integrity.
Inclusion and intersectionality.
Idaho Branches
Long Valley
Moscow
Orofino
The Simple Truth About the Gender Pay Gap 2019



Equal Pay Day is April 2, 2019.  Women working full time in the United States typically are paid just 80 percent of what men were paid; in Idaho, it's even less. The figure is even more dire for African-American, Hispanic or Latino women. While many occupations have managed to narrow or even close the pay gap, disparity still exists.
Tell Your Member of Congress: Cosponsor and Pass the Paycheck Fairness Act
The economic well-being of women and families was a central issue in the election of the historically diverse 116th Congress. Now, our legislators have come to Washington with a charge to stand up for women's economic security — and there is no more fitting way to begin than by making real progress toward ensuring all women receive fair pay.
The Paycheck Fairness Act will soon be introduced in Congress — and you can be a critical part of the work to pass it by urging your members of Congress to become original cosponsors and to call for its swift passage.
Urge your members of Congress to affirm their commitment to pay equity by cosponsoring the Paycheck Fairness Act today! Click here
The Paycheck Fairness Act would take meaningful steps to help close the gender pay gap. AAUW advocates have made sure Congress knows pay equity is a priority for women and families. Now, the Paycheck Fairness Act must be a priority in the 116th Congress.
Our lawmakers must make good on their promises to make progress for gender equity. Urge your members of Congress to cosponsor the Paycheck Fairness Act to help close the gender pay gap.
AAUW's The Simple Truth about the Gender Pay Gap addresses the issues such as the pay gap in each state; the pay gap by age, race/ethnicity, and education; guidance for women facing workplace discrimination; resources for fair pay advocates etc.  We must fight for fair pay every day.  Click here for the full report and details.
Visit fightforfairpay.org and find out what you can do to achieve pay equity.
Know your Rights: Sexual Harassment and Sexual Assault Under Title IX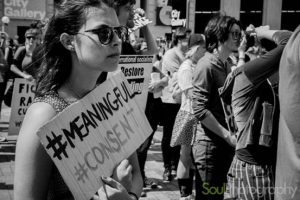 Title IX of the Education Amendments of 1972 is a comprehensive federal law that prohibits sex discrimination in education. It covers women and men, girls and boys, and staff and students in any educational institution or program that receives federal funds. Local school districts, colleges and universities, for-profit schools, career and technical education agencies, libraries, and museums are all covered under Title IX.
Read more
Deeper in Debt: New Research on Student Loan Debt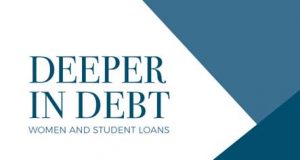 Student loan debt is now a $1.3-trillion problem burdening 44 million borrowers. Experts are talking about the effects of student debt on the economy, but they aren't talking about its disproportionate effects on women. AAUW takes a close look at that oversight in the new research report Deeper in Debt: Women and Student Loans.  Read more.
AAUW Idaho Members at Women's March on Idaho, January 21, 2017
AAUW Advocacy
While education is AAUW's primary focus, we have always spoken out about vital social, economic, and political issues. We have long influenced legislative debates on critical issues such as gender-fair education, civil rights, family and medical leave, equal pay for equal work, reproductive choice, affirmative action, welfare reform, and health care reform. We condemn all forms of discrimination.
If equity is at issue, we're there. Lobbying legislators and taking a stand on policy issues. Raising money to fund research. Publishing groundbreaking studies. Spearheading community programs. Launching voter education campaigns. Mentoring women and girls. Working with educators to better engage girls in learning. Awarding fellowships and grants to outstanding women around the globe through AAUW Funds. Providing legal support to fight sex discrimination through the AAUW Legal Advocacy Fund.
AAUW values and seeks members of every race, creed, age, sexual orientation, national origin, and level of physical ability. Membership is now open to anyone with an associate's degree (or equivalent), a baccalaureate degree or higher from an accredited college or university. These new guidelines were voted on at the 2005 national convention.
There are six branches in Idaho that meet on a regular basis to develop programs that promote equity. Branch members are also part of the state AAUW Idaho and the national organization. In Idaho, prospective members should visit the Join page and email the membership or branch contact; others should call 1-800-326-AAUW or e-mail info@aauw.org.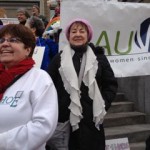 Public Policy Advocacy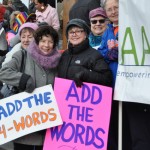 In the End, we will remember not the words of our enemies, but the silence of our friends. – Martin Luther King, Jr.
The public policy program underscores AAUW's mission of advancing equity for women and girls through advocacy, education, and research, and speaks to women's needs, aspirations, and concerns across the life span. The work of AAUW builds upon over a century of responsible public participation at the local, state, national, and international levels. AAUW is committed to working in partnership with diverse allies. To get involved in advocacy here in Idaho and make your voice heard, visit our Advocacy page.  To explore more about issue advocacy on our national website, click here.